Atlantic Hearts #124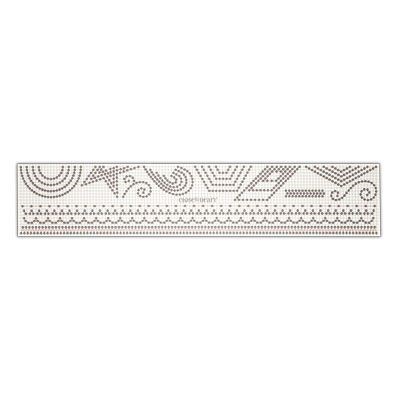 I love to use the sketches from
Atlantic Hearts
and often the cards I create from those sketches become the samples from my monthly creative clubs. When I saw this sketch a few weeks ago, I actually squealed "sewing!" because a focus of the creative clubs is to learn new skills and I knew most of my crafty girls had never sewn on paper... (maniacal laughter!) So the classes were last week and many did sew, a few chose not to and we did discuss alternate ways we could create the look without actually sewing like hand drawing the lines with a journal or fine tipped pen, using the stitch guide and piercing the pattern but not actually sewing it or by stamping with a "stitch" stamp (CTMH had a great one a few years ago and currently there is a pretty one called
Stitch Wonder C1564
).
So the most helpful step for sewing on paper?? Use a
stitch guide
and CTMH has two! The first one is a
ruler with a simple sewing pattern
and the second is much larger. It is still shaped like a ruler but it has all sorts of patterns that you can punch using your
piercing tool and a foam mat
. It is a super fun way of putting patterns and that little something extra on your projects.
For this card the pattern paper is from the
Zoe Paper Packet
and the pretty flowers are from September's Stamp of the Month,
Paper Garden (S1509)
. The border (which I cut out in Gypsy
Cardstock
), flower and leaf shapes can all be found on the Cricut Artiste Collection. I stamped the flowers using Gypsy, Thistle, Pixie, Smoothie and Canary
inks
and the leaves are done in Pear.
For the stitching I adhered the pattern and cardstock pieces to my card and then using the guide punched my stitch pattern. I then sewed using 3 strands of embroidery floss.
You will be able to see the stitching on the inside of the card so either keep it tidy or plan to put a piece of card stock over it. I decided that this card did not need a sentiment on the outside and plan to stamp one inside when I use the card.
Thank you for stopping by and I truly appreciate your comments. Please follow the link to check out all the great artwork submitted to the
Atlantic Hearts Sketch Challenge
. I hope you get inspired and decide to come play along. We love to see what you create and you might get voted as one of the top 3 of the week.
Happy Crafting!