Cross Canada Blog Hop... September!
Welcome to our September Blog Hop featuring our Favorite New Things. To purchase any of the items seen in our blog hop today, contact your local consultant to place an order.
We hope that you will take the time to leave comments on our posts, as we love to get feedback from our viewers....whether it was something that you really liked or some new t
echnique that was used that you would like to learn how to do....by leaving us comments, we get to hear what you like, and what you want to see. Thank you… now on to our hop!
If you have just hopped onto my blog, you can start here as this is a circular hop, but if you want to follow us across Canada then please start at the beginning and join Julie at
12x12travels.blogspot.ca
. If you came from Kristine of
homewithstudiok.com
then you are in the right place!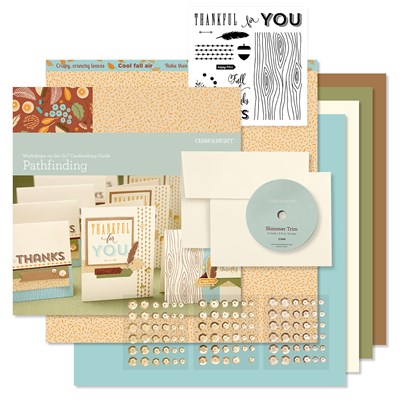 To pick any one favorite thing in the New Idea Book is a very, very hard task as with everyone else
"I love it all!"
but right now I am loving the Cardmaking Workshops On The Go's (aka WOTG). In this idea book Cardmaking WOTG's have been created for
Pathfinding
and
Snowhaven
.
The kits are wonderful in that you get everything you need to make 15 cards including a full colour instruction booklet and embellishments. But what I really love about these WOTG is the stamp set. They not only give you what you need to complete the cards as per the instructions but you get several extra images to inspire you to change the cards and make them yours. I love that I can "go rogue" as a friend likes to say and make each card unique.
For each of these cards I did start with the base designs from the instructions and then turned them into something a little more "me".
I think this is my very favorite thing about Close To My Heart in general, they not only give us great products to work with but lots of samples, examples, recipes, how-to's and instructions to stimulate our creative mojo. So often I start out wanting to recreate a project that has been provided by Jeanette and the wonderful design department at CTMH and the next thing I know I have gone rogue and made it mine.
I am the very last "stop" on this hop across Canada but if you are still completing the circle your next stop is back at the beginning in St. John's, Newfoundland with
Julie
of
12x12travels.blogspot.ca
If you get lost along the way, you can head to Michelle S Blog,
http://mycreationswithmichelle.blogspot.ca
, as she has the complete blog list.
Thanks for hopping along with us - we hope we were able to inspire you to get creative using some of the designs, products and techniques seen along the way. We hope you will join us again next month when we will be featuring Trick or Treats, for Halloween. So mark October 15th on your calendars and hop along with us.
Happy Crafting!
Candra